Calendar of Events
Milk & Cookies Playhouse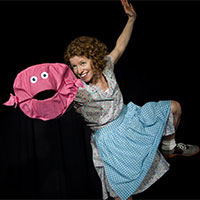 Streaming On Demand
Tickets: $15 (children under 18 months free)
Children will be dazzled and transported during our second puppet festival featuring two local puppeteers along with award-winning headliner, Bonnie Duncan, as she presents "Squirrel Stole My Underpants."
Immediately following the one-hour puppet show, the concert hall will transform into a "pop-up interactive puppet making space" where the children can make puppets and try out their own skills!
Recommended ages 1-10 years old.