ArtsRock and Three Standing Ovations for Sir James Galway
Nyack's HamletHub
Published on Friday, 27 March 2015 12:17
Written by Donna Schmidt
The man with the golden flute, Sir James Galway joked with Elliott Forrest last night about how long Elliott has tried to persuade him to perform as part of an ArtsRock event in Nyack for many years.
"I think you started asking me in 2001, and I always said I had a better place booked" joked Galway. It turns out that not only can this seventy five year old world-renowned flutist play a tune; he is quite the funny man. Galway has performed for Queen Elizabeth II, Pope John Paul II, President Clinton, President George W. Bush, President George H.W. Bush, President Mary McAleese, President Michael D. Higgins, Irish Prime Minister Enda Kenny, Prince Charles to name a few.
Last night, Nyack was in good company and gave Sir James Galway three, very deserved, standing ovations.
"Last evening Art Rocks brought one of the worlds' greatest musical artists, Sir James Galway, the foremost Flutist of all time, to the Village of Nyack. The audience was both mesmerized and enchanted. Thank you Art Rocks," said John Murphy, Rockland County Legislator.
Along with his wife Lady Jeanne, also a flutist and who later called the night "electric", Galway performed at the First Reformed Church in Nyack to a sold out crowd. He was accompanied on piano by Michael McHale who is also from Belfast, as is Sir Galway, and studied at Cambridge University and the Royal Academy of Music.
Galway played for over an hour and finished with Danny Boy, or so the audience thought until Galway grabbed is penny whistle and played one last song for David Amram who was part of the audience. Amram has been described as "the Renaissance man of American music." He has composed over 100 orchestral and chamber works, written two operas, and many scores for theatre and films.
"What a wonderful evening last night! Thank you so much for facilitating and hosting such a wonderful concert in an awesome space with Sir James Galway, Jeanne and Michael." said Carol Ryan, Employer Outreach Manager 511NY Rideshare.
After the performance, ArtsRock Benefit ticket holders crossed the street to First Niagara Bank which was fully equipped with two enormous safes -- one shining with green glitter, perhaps as homage to Galway's Northern Ireland heritage -- food, wine and good company. A flute teacher from Orange County along with nine of her students, parents/grandparents explained how one of the moms could not stop shaking not believing she saw Galway perform in person. Galway and Lady Jeanne also took the students in the back of the church for a brief photo session before getting over to the reception, a chance of a lifetime.
Board Member Joe Morley chaired the benefit, transforming the space donated by First Niagara Bank into an after reception with food generously provided by Kevin Riley and Maria Santini of Roost Restaurant in Sparkill. Additional contributions by community minded supporters Grape d'vine, Tappan Zee Florists, ABC Fabulous Events Party Rental and Lush Photography and Design added to the event.
"It was my honor to bring world-class artists such as Sir James Galway and his wife, Lady Jeanne Galway, to Rockland. Not only did our sold out crowd get to enjoy great music making and Sir James' unique Irish charm, but we raised needed funds to support the programs we present, including family shows for kids, many of whom might have never seen a professional live performance." said Elliott Forrest, ArtsRock Artistic Director.
ArtsRock raised almost $14,000 thanks to the man with the golden flute and the ArtsRock community.
Video is Sir James Galway performing Danny Boy.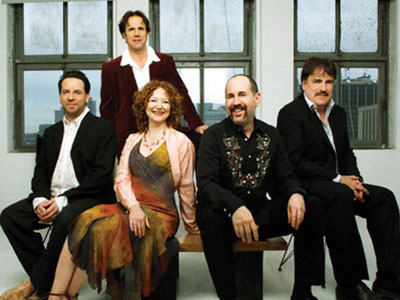 The Klezmatics
Sunday, December 02, 2012
Temple Beth Torah, Upper Nyack
The Chanukah Celebration of 2012. The Klezmatics are The Best Band in the Klezmer Vanguard. In the rich and colorful Yiddish language there are expressions that vividly convey virtually any emotion or action.


AmazonSmile is a simple and automatic way for you to support ArtsRock every time you shop, at no cost to you. When you shop at
smile.amazon.com
, you'll find the exact same low prices, vast selection and convenient shopping experience as Amazon, with the added bonus that
Amazon will donate a portion of the purchase price to ArtsRock of Rockland, Inc.
To shop at AmazonSmile simply click here
, or go to
smile.amazon.com
and pick ArtsRock of Rockland, Inc. as your chosen charity. A small amount of any purchase price will be donated to ArtsRock. AmazonSmile is the same Amazon you know, with the same products, prices and Amazon Prime benefits.