| | |
| --- | --- |
| Saturday, October 17, 2015 | |
Time: 8:00 pm

Nyack Center
58 Depew Ave, Nyack, NY 10960

Tickets: $20, $10 Students

with
JOHN HOCKENBERRY, WNYC & NPR
NANCY GILES, CBS Sunday Morning
HENDRIK HERTZBERG, The New Yorker
FRANCIS WILKINSON, Bloomberg View
Hosted by ELLIOTT FORREST, WQXR/WNYC

With an ever evolving field of Presidential candidates and a myriad of issues facing the country, how will this all play out? Who will finally take the White House and what is likely to happen in our country and around the world to shape the election? All this and more will be discussed, in what promises to be an entertaining and thought-provoking evening.
| | |
| --- | --- |
| Sunday, November 22, 2015 | |
Milk and Cookies Playhouse
Magic Science Workshop
Time: 3:00 pm

Nyack Center
58 Depew Ave, Nyack, NY 10960

Tickets: $15

Nyack's very own Mario the Magician! Enjoy an amazing magic show tailored for young children with surprise guests! Mario's live performances are uplifting, inventive, highly interactive, and ridiculously funny. Think Buster Keaton and Charlie Chaplin for the modern age. Mario has appeared at Lincoln Center for the Performing Arts, Sesame Street, the American Museum of Natural History, and FAO Schwarz, among many other wonderful locations. Hands on magic and science workshop will follow the show.
Time: 2:00 pm

The Reform Temple of Rockland, Nyack Campus
330 N Highland Ave, Nyack, NY 10960

Tickets: $28/$22 Temple Member/$15 student

Surely these musicians are some of the best brass players on the planet. The NY Philharmonic Principal Brass Quintet enjoys worldwide exposure and an international reputation. The group's debut came in 1983 when they joined with the Canadian Brass. They've played at Tanglewood, Wolf Trap, Great Woods, and Mostly Mozart, as well as concerts in cities throughout Canada and the United States. The Principal Brass has hosted an annual Christmas Holiday Concert at Avery Fisher Hall since 1995.

Joseph Alessi, Principal Trombone
Alan Baer, Principal Tuba
Ethan Bensdorf, Associate Principal Trumpet
Matthew Muckey, Associate Principal Trumpet
Chris Lee, Associate Principal Horn
| | |
| --- | --- |
| Monday, December 28, 2015 | |
Milk and Cookies Playhouse
New Year's Noise Maker Workshop
Time: 2:00 pm

Nyack Center
58 Depew Ave, Nyack, NY 10960

Tickets: $15

Award-winning band for young audiences! Celebrate the holiday season with banjo, fiddle, bass and a six-foot-tall dancing frog, monkey and crab. The Bossy Frog Band has performed for over 100,000 children and families and their latest release was a Parents' Choice Award winner. A new year's noisemaker workshop will follow the show.
Featuring Rick Lyon & Skye Leith and Jill Liflander + Puppet-Making Workshop
Time: 3:00 pm

Nyack Center
58 Depew Ave, Nyack, NY 10960

Tickets: $15

Puppets, puppets and more puppets! We are ecstatic that year three of our Puppet Festival features Rick Lyon from Sesame Street and Avenue Q. He'll perform "The Magic Orange," a fractured fairy-tale about a poor farm boy trying to make his dream come true. Local Puppet Masters Skye Leith & Jill Liflander open the show with their latest bits of theatrical magic. A puppet-making workshop will follow the show.
| | |
| --- | --- |
| Saturday, February 6, 2016 | |
Time: 8:00 pm

First Reformed Church of Nyack
18 S Broadway, Nyack, NY 10960

Tickets: $25 in Advance / $30 at the door

All the songs played in order from this, one of the best selling albums of all time: "I Feel the Earth Move," "So Far Away," "It's Too Late," "Beautiful," "You've Got a Friend," "Will You Love Me Tomorrow," "Natural Woman," and more!

This special concert is created by ArtsRock and The Old No. 7 Band, featuring vocalist Lorena Mann.




Media Sponsor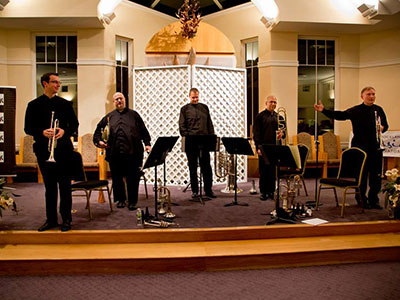 New York Philharmonic Brass Quintet
Monday, December 09, 2013
Temple Beth Torah, Nyack, NY

AmazonSmile is a simple and automatic way for you to support ArtsRock every time you shop, at no cost to you. When you shop at
smile.amazon.com
, you'll find the exact same low prices, vast selection and convenient shopping experience as Amazon, with the added bonus that
Amazon will donate a portion of the purchase price to ArtsRock of Rockland, Inc.
To shop at AmazonSmile simply click here
, or go to
smile.amazon.com
and pick ArtsRock of Rockland, Inc. as your chosen charity. A small amount of any purchase price will be donated to ArtsRock. AmazonSmile is the same Amazon you know, with the same products, prices and Amazon Prime benefits.