News
5 questions for Upper Nyack's Joe Alessi, N.Y. Philharmonic trombonist; globetrotting principal trombone player close to home Monday
Published by The Journal News / LoHud.com
Written by Peter D. Kramer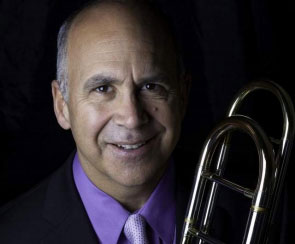 Joe Alessi of Upper Nyack is principal trombone of the New York Philharmonic. / David Finlayson Photography
If you go
What: New York Philharmonic Brass Quintet.
Who: Josef Burgstaller, Philip Myers, Joseph Alessi, Alan Baer and Ethan Bensdorf.
When: 7:30 p.m. Dec. 9.
Where: Temple Beth Torah, 330 N. Highland Ave., Upper Nyack
Tickets: $25 general admission/$20 temple member/$15 students.
Call: 855-278-7762
Web: www.artsrock.org
As principal trombone for the New York Philharmonic and a sought-after soloist, Upper Nyack's Joe Alessi has traveled the world. But he won't have to even pack up his horn for his concert on Monday, when Alessi and the Philharmonic's Principal Brass players come to Temple Beth Torah for a holiday concert. A production of ArtsRock, the concert will feature some of the planet's best brass players: Josef Burgstaller, Philip Myers, Alan Baer, Ethan Bensdorf and Alessi.
"I think I can walk to the concert," Alessi says. "It's a beautiful building and the acoustics are terrific. I'm hoping that somehow I can do some other projects there down the road."
Alessi, who teaches at Juilliard while keeping up a busy performance schedule, chatted from his home in Upper Nyack, where he has lived since 1992.
1. You have played around the globe. Do audiences differ from one country to another?
"We just did a concert in northern Italy, actually in South Tyrol and this one town, Merano. The difference in the way the audience behaves, from town to town or region to region is really dramatic. Sometimes, after the concert, they'll say 'I really enjoyed that,' but if you glanced out into the audience, they'd look like they were asleep. They're not. They're listening intently. On the same tour, we went to Ossiach, Austria, in the middle of the Alps. We did the same program and played it about the same, and the audience really reacted in a loud way and you could tell they were a really outgoing people. Everybody listens the same way, but their emotional reaction is much different."
2. You have played pieces that have been written specifically for you.
"Yes, I've had a lot of pieces written for me and there are three this year that I'll be premiering. One just showed up today from a composer, commissioned by the New York Philharmonic, for solo trombone. I'll be practicing that till June. It's by Eric Nathan. He's from Larchmont but lives in Italy. We'll premiere it at the Philharmonic's biennial concerts in June. This piece requires me to take off one of the tuning slides and play without it. The music will come out the bell, like it usually does, but you'll hear a wierd sound coming out the back of the trombone."
3. Almost like an exhaust pipe?
"Exactly. It sounds like it's two instruments playing. You're still moving the hand slide, but it comes out another pipe. I've practiced it a little bit. This is good. It'll give me something to do."
4. Have you met Eric Nathan?
"He's in Italy, so we had a session on Skype. He wanted to know what I like to do, what sounds good on the instrument, what contemporary techniques I like to use. He doesn't play a trombone, but he bought one and learned it just to see what's possible on the instrument."
5. What's on your set list for Dec. 9?
"A lot of the music we play is arranged by Robert Elkjer. Bob and I grew up together in San Rafael, Calif., and all these years we've been friends and a lot of things you'll hear in Nyack were arranged by him. The first half is some classical pieces mixed in with some tangos. Then we go into a Latin American suite. The second half is favorite carols, jazzed up by Mr. Elkjer. We're not as elaborate as the Canadian Brass, but we put a good show on and we're happy to have guest trumpeter Josef Burgstaller with us."