News
Nyack Center packed for annual puppet festival
ArtsRock brought a tale of a magic orange and other stories to a sold-out crowd at the Nyack Center Sunday for its third annual puppet festival.
The event included a performance by Rick Lyon, the puppet designer for the Tony Award-winning "Avenue Q" musical and a former puppeteer for "Sesame Street." Lyon performed his show "The Magic Orange" on a puppet stage, then he repeated part of his performance with the puppet stage's covers removed to show the audience of 225 adults and children how hidden humans control their puppets.
Kenny Kaufman of Port Chester appreciated the behind-the-curtains view.
"Young Peter here wants to be a puppeteer," Kaufman said of his step-son Peter Sortire. "and for the Sesame Street guys to open up and show how the magic is done is really special."
ArtsRock also invited local puppeteers to participate.
Puppeteer Skye Leith performed with his group Cirkus Fiasco and Jill Liflander of Jilly Puppets in Sleepy Hollow used a giant eye for part of her show. Unlike Lyon, Leith's crew and Liflander were not hidden behind screens or curtains.
Liflander explained that puppetry challenges children when human beings are visible.
"The child has to use their imagination at the same time that they're perceiving their reality," said Liflander. "I think that combination, the duality of that for the child, makes for a mysterious and wonderful experience."
ArtsRock is a nonprofit organization devoted to increasing Rockland County residents' access to professional arts and multicultural programs. The group's upcoming shows include a live performance Feb. 2 of Carole King's Tapestry album along with an appearance by Doug McGrath, the writer of the Tony Award-winning "Beautiful: The Carole King Musical."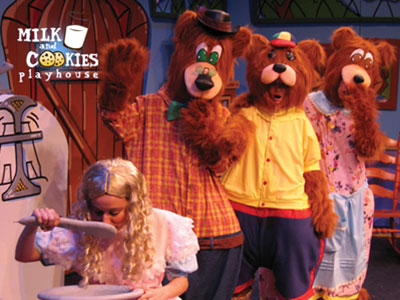 Ricitos and The Three Bears (in Spanish and English)
Sunday, November 18, 2012
BOCES Rittenhausen Theater, Nyack
In this spirited retelling of the familiar tale, a feisty Ricitos Goldilocks) gets lost while wandering through the woods and stumbles across a vacant house. Her irrepressible curiosity gets her into more trouble than she's bargained for when she enters the three bears' house uninvited.

AmazonSmile is a simple and automatic way for you to support ArtsRock every time you shop, at no cost to you. When you shop at
smile.amazon.com
, you'll find the exact same low prices, vast selection and convenient shopping experience as Amazon, with the added bonus that
Amazon will donate a portion of the purchase price to ArtsRock of Rockland, Inc.
To shop at AmazonSmile simply click here
, or go to
smile.amazon.com
and pick ArtsRock of Rockland, Inc. as your chosen charity. A small amount of any purchase price will be donated to ArtsRock. AmazonSmile is the same Amazon you know, with the same products, prices and Amazon Prime benefits.

A free, convenient service for converting that extra car, truck, or RV into a tax deductible donation benefiting ArtsRock of Rockland Inc.. You can donate online by clicking the logo below or call 877-999-8322 to make your donation.
Don't donate your car or truck to some charity you have never heard of. Our trusted service makes sure your vehicle is properly handled so you get your tax deduction and your charity, ArtsRock of Rockland Inc., gets the benefit of your donation.