News
ArtsRock Announces Newly Expanded Board of Directors
Nyack, N.Y. - March 5, 2012 -ArtsRock, a Rockland County, NY not-for-profit arts organization, is pleased to announce the appointment of its 2012 Board of Directors. ArtsRock announced that Joe Morley was appointed as the Board President.
"Our emergence as an independent arts organization comes at a time when our mission is more vital than ever. With funding for all types of discretionary programs being cut in our communities and in our schools, ArtsRock will continue to bring professional live entertainment to audiences that might otherwise not have such access. I am honored to be chosen to lead the first ArtsRock corporate board towards this goal," said Morley.
The Board consists of the following appointments as of March 1, 2012.
Officers:
Joe Morley, Board President. Mr. Morley is the Partner/Executive Producer at Studio on Hudson in Nyack, NY, an independent feature film production company. He is co-executive producer of the 2008 Sundance Award winning film Anywhere USA, and of Morgan Spurlock's critically acclaimed and Academy Award nominated film Super Size Me.
Greg Karr, Board Vice President. Mr. Karr is an entrepreneur who contributes his talents and resources to his community. Professionally, he founded and is the CEO of The Center for Allied Health & Nursing Education, a post-secondary institution providing nursing education through five campuses in New Jersey and Florida.
Patrick Kennedy, Board Treasurer. Mr. Kennedy graduated with degrees in both Marketing and Management, followed by a MBA, and became an employee of HSBC where he is still currently employed. In his 11 years with the company, after completing a project in Chicago three years ago, he returned to the east coast to Nyack, as a Premier Relationship Manager.
Marilyn Kaskel, Board Secretary. Ms. Kaskel is an Emmy and Gracie award-winning producer with more than 25 years in broadcast television known for getting exclusive interviews with world leaders and newsmakers. She has produced thousands of segments for the biggest on-air talent in the business including Brian Williams' and Geraldo and through her award-winning production company, she created long form documentaries for PBS, focusing on women's issues.
ArtsRock Board:
Hal Coon, Dallas Texas
Peter Danish, Danish Media Group, Nyack
Deborah Darbonne, West Nyack
Alice DiSanto, LS Direct Marketing of Suffern
Jeff Doctorow, Doctorow Publishing LLC, New City
Martin Flaxman, Windsor Insurance, Nyack
Elliott Forrest, Broadcaster & Producer WQXR/WNYC, Upper Nyack
Jeffrey Friedberg, Bossy Frog Band, Upper Nyack
Rod Greenwood, Managing Director at Morgan Stanley, Pearl River
Lorena Mann, The Recording Academy NY Chapter, Piermont
Nelson Page, President of MajesticStar Entertainment
The mission of ArtsRock of Rockland, Inc. is to provide increased access to professional arts and multi-cultural programs for an underserved, diverse audience, in and around Rockland County. ArtsRock is an affiliate of Friends of the Nyacks, Inc., a 501 (C)(3) New York Not-For-Profit Corporation. For Tickets: www.artsrock.org or call 866-811-4111.
For information: [email protected] or call 845-418-ARTS.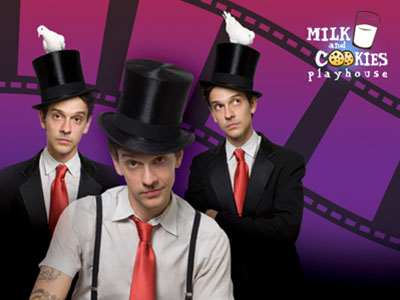 Movie, Magic & More
Sunday, January 20, 2013
Lafayette Theater, Suffern
From Laurel and Hardy to Looney Toons, kids loved the humor and artistry of these blasts from the past. Mario the Magician mesmerized and delighted in between the short films.

AmazonSmile is a simple and automatic way for you to support ArtsRock every time you shop, at no cost to you. When you shop at
smile.amazon.com
, you'll find the exact same low prices, vast selection and convenient shopping experience as Amazon, with the added bonus that
Amazon will donate a portion of the purchase price to ArtsRock of Rockland, Inc.
To shop at AmazonSmile simply click here
, or go to
smile.amazon.com
and pick ArtsRock of Rockland, Inc. as your chosen charity. A small amount of any purchase price will be donated to ArtsRock. AmazonSmile is the same Amazon you know, with the same products, prices and Amazon Prime benefits.

A free, convenient service for converting that extra car, truck, or RV into a tax deductible donation benefiting ArtsRock of Rockland Inc.. You can donate online by clicking the logo below or call 877-999-8322 to make your donation.
Don't donate your car or truck to some charity you have never heard of. Our trusted service makes sure your vehicle is properly handled so you get your tax deduction and your charity, ArtsRock of Rockland Inc., gets the benefit of your donation.