Calendar of Events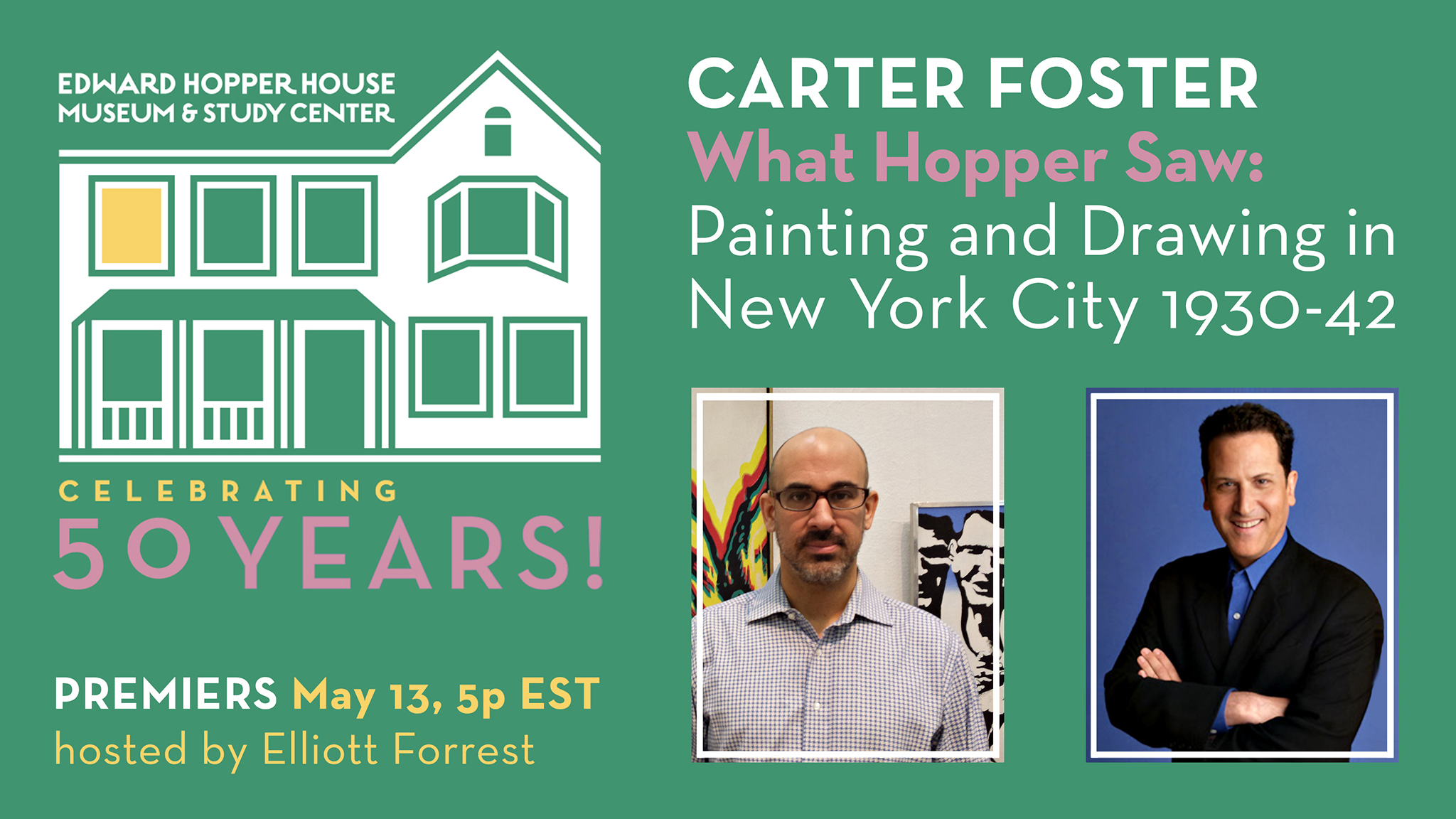 What Hopper Saw: Painting and Drawing in New York City, 1930-42
hosted by Elliott Forrest
Streaming On Demand
Tickets: Free
Join this very special event to raise money for Edward Hopper House Museum & Study Center with world-renowned curator Carter Foster. In conversation with Peabody award winning host, Elliott Forrest, Mr. Foster will delve into Hopper's life at 3 Washington Square. Frequently walking the streets of the City, the New York experiences Hopper had have shaped some of his most celebrated paintings, including Early Sunday Morning, New York Movie, Nighthawks, and Office at Night. Using period photographs and the extensive records Hopper's drawings provide of his creative process, Mr. Foster will look at how the artist's concrete experiences of the city turned into the poetic and haunting paintings that have so captured the popular imagination and continue to fascinate us today.
Your purchase is your generous support of Edward Hopper House Museum & Study Center. Thank you for helping us raise funds for Edward Hopper House. We are especially grateful to ArtsRock for their kind support in bringing this to you!
CARTER E. FOSTER is Deputy Director for Curatorial Affairs and Curator of Prints and Drawings at the Blanton Museum of Art, University of Texas at Austin. He previously held curatorial positions at the Whitney Museum of American Art, the Los Angeles County Museum of Art, and the Cleveland Museum of Art. He has written extensively on both the history of drawing and contemporary drawing practice, as well as on the work of Edward Hopper and Ellsworth Kelly.
ELLIOTT FORREST - Founding Executive Artistic Director, ArtsRock.org. Peabody Award winning afternoon host, New York's Classical Radio Station, WQXR. Executive Producer, The Public Theater's Shakespeare in the Park on the Radio, RICHARD II and ROMEO Y JULIETA. Host: The Chamber Music Society of Lincoln Center. Producer national tour AN EVENING WITH ITZHAK PERLMAN. Co-Director and Projection Designer for national tour and PBS TV Special: CONSIDERING MATTHEW SHEPARD. Co-director NO ONE IS FORGOTTEN. Director: A CHRISTMAS CAROL with David Hyde Pierce, F. Murray Abraham, Brian Cox, Tony Roberts and Kathleen Turner. Producer, Director, Designer: LA Philharmonic, The NY Philharmonic, Houston Symphony, Philadelphia Orchestra, Atlanta Symphony, New Haven Symphony Pasadena Pops, Little Orchestra Society. Host for 12 years on A&E Breakfast with the Arts. Holds BA, Theater, University of Texas, Austin.