Calendar of Events
Milk and Cookies Playhouse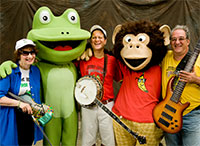 Streaming On Demand
Tickets: $15 (children under 18 months free)
Join the award-winning Bossy Frog Band in their annual musical extravaganza featuring banjo, a hula hooping fiddler, a dancing costume character Monkey and of course, the six-foot-tall dancing costume character Bossy Frog!
Immediately following the show, the concert hall will turn into a musical instrument petting zoo where children can try out musical instruments under the guidance of local music teachers.
Recommended ages 1-8 years old.
Photo Credit: Myles Aronowitz/Lushphotography.com